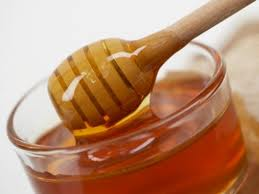 I got a message from someone asking me if honey is really that healthy or is it just a "grandma's tradition"!
He asked me to talk about it here, so Mr X that's for you! 😀
Well for something that sweet and tasty, I guess honey health benefits may be placed on the top!
1- Rich in antioxidants:
Honey contains powerful antioxidants, that neutralize free radicals in our body and thus protecting us from aging and from many medical diseases.
A 2004 study conducted by the University of California concluded that honey contains as many antioxidants as spinach, apples, oranges or strawberries.
2- Good for diabetic people:
Honey contains glucose and fructose sugars, and it contains more calories than table sugar. But According to Dr. David Baer of the USDA Agriculture Research Service, our body tolerates honey better compared to table sugar. Eating honey is better for people with diabetic conditions as it is less likely to cause blood sugar spike.
3- It beautifies our skin:
Honey is a natural treat to our skin! It has antibacterial and anti fungal agents that help disinfect and speed the healing process in wounds, scrapes and burns!
4- Improves sport performance and increases libido:
Studies at the University of Memphis Exercise and Sports Nutrition Laboratory found that honey may be one of the most effective forms of carbohydrate to eat just prior to exercise.
It gives energy and endurance, increases performance and decreases fatigue!
5- Honey can be a cure for insomenia!!
According to Michael McInnes of the Royal Pharmaceutical Society, eating a tablespoon or two of honey at bedtime can improve sleep quality.
Consume one teaspoon of natural honey before sleeping!
 One teaspoon of honey contains 22 calories!
6- It cures night cough:
A 2007 study by a Penn State College of Medicine research team found that honey consumption before bedtime was more effective for curing cough and sleep difficulty than any other medications!
Manuka honey is a premium medical honey found only In New Zealand region. It has been discovered as a unique type of honey that can treat health conditions even the severe ones like ulcers, acid reflux, eczema, gastritis (infection in the stomach), acne and throat problems.
http://www.eatlikemira.com/2010/01/26/manuka-honey/
That's not all!! 
HONEY, is a perfect treat for happiness! When your mood goes down and you feel depressed, the best thing to do is to have one tablespoon of honey. It will boost up endorphine, hormone located in the human brain, known as the hormone of happiness!! 😀