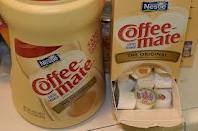 Coffee-mate is the brand name for a line of non-dairy creamers manufactured by Nestle, in 1961.
Coffee-Mate has expanded its line enormously over the past few years, allowing customers to choose different  flavors!
But can it be a substitution for milk and other dairy products??
Is it good or bad for our health??

 
A serving size of Coffee-mate is 2 teaspoons: 6 grams
The regular one has: 33.5 calories per serving, 1.5 g of Carbohydrates
The Light one has 26 calories per serving, 0.8 g of carbohydrates
Coffee mate has no protein at all and is NOT considered a milk product!
Coffee-mate offers no calcium or vitamins, as you'd get from dairy products.
Personally I prefere to have my nescaffe with some low-fat milk! I think it is more tasty and healthy! 
But for people who can't tolerate dairy products, coffee mate can be a smart option! But go for the light version as it gives you only 26 calories and less than 1 gram of fat per serving ( 2 teaspoons).
Be careful!!
Although Coffee mate is zero
Trans Fat
, it contains hydrogenated palm oil and so can raise your blood cholesterol.
Always go for the light version! 🙂