I believe that food interaction plays an important role in burning fat! That's why I always insist not to skip any of the 3 main meals during the day, as long as food portion is controlled.
More specificaly I will tell you now what are the best food that help in burning fat and keeping a flat belly!!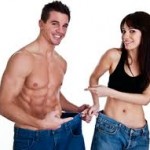 Because summer is around the corner 😉
1- Caffeine: Studies have shown that caffeine releases fatty acids so that they burn faster. Drink caffeine in the form of coffee and tea.Chocolate also contains caffeine and is rich in antioxidants which boost your metabolism and burn more fat!
– People with high blood pressure should limit their caffeine consumption.
2- Raw Nuts and almonds:They slim your tummy by keeping it full. When eating good sources of fat like omega 3 and Vitamin E fatty acids, you remove the bad body fat especially around your wasit! So 10 almonds a day satisfies your hunger without being overloaded with calories.
Watch out: Skip salted nuts; too much sodium raises blood pressure and retains water in your body.
3- Berries: Berries like raspberries and strawberries stuff a lot of filling fiber into a small portion. Fiber is easily digested and prevents constipation. Berries contain special kind of antioxidants that keep your belly flat! 
4- Avocado: In addition to containing lots of heart-healthy monounsaturated fats, avocados are a source of filling fiber (11 to 17 grams per avocado!). They also contain high amount of Vitamin E, which also helps in slimming your wasit! 1/4 avocado has 45 calories. Include it in your diet!!
5- Cinnamon: It is a kind of spice but it doesn't add calories, while helping you burn fat. According to a recent study of diabetics, cinnamon  metabolises blood sugar . Eating 2 teaspoons of cinnamon a day was found to reduce blood sugar levels and cut cholesterol from 10 to 25 percent.
Flavor your coffee with it!
6- Oats: Oats have an excellent power to make you feel full. Oats are easily digested , so they don't raise your blood sugar, and they keep you feeling filled up well!  Oatmeal can be the best option for a healthy fullfilling breakfast, with 3 to 4 grams of fiber per serving.
And of course at the end!
– Don't forget to drink water!! Water flushes all the toxicity out of your body.
– Don't forget to decrease salt and sodium consumption. Although it doesn't have calories, salt causes water retention and can be the cause of developing cellulite!