As you know by now, I  always post about new restaurants I try:)
And this time I tried Babel restaurant, in Antelias! They told me that I am gonna love it!
It is an Arabic restaurant, but  has a different addictive taste, or if you want not the standard Lebanese taste!
We ordred a variety of appetisers and dishes, but here are my choices:
– Fattouche: 3 tablespoons: 100 cal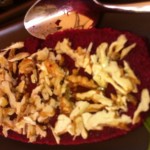 –Beetroot moutabbal, tossed with raw walnuts: 2 tablespoons: 70 cal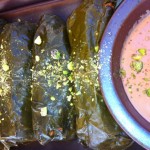 – 3enabiyyei: It looks like a big vine leave but it is stuffed with tomato sauce and homos and tossed with dry pistachios
I took 1, it's fullfilling! 80 cal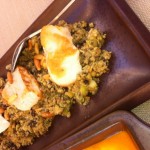 – Mafroukei Tajin: I loved this! 3 tablespoons:  170 cal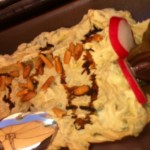 – Homos estanboulei: A tasty homos bel tahina, tossed with sesame seeds!!
I took 2 tablesspoons with lettuce: 100 cal
Raw almonds: 10 pieces: 90 cal
 And a diet 7 up!
I didn't eat bread as I am intolerant to wheat, and have to stop it for 3 months!
I've noticed that they add almonds. walnuts, seeds and pistachios to all their dishes, and that what makes the taste so special and unique, and the dishes so healthy with all those omega- 3 benefits!
My total Lunch makes 610 calories! And it is worth it! 😀