I've been going to chez Paul since ages!! But never tried the salads! I find it more into breakfasts, sandwiches as I love its bread!! 😀
I was in kuwait a couple of days ago, and my friend insisted that I try the "Fermiere salad"!! And to tell you the truth I ate it twice on 2 consecutive days!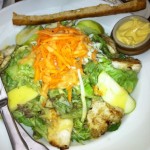 Actually it is a regular normal salad but has all the benefits someone can imagine!
Ingredients: Mixed green leaves, fresh green apples sliced, raw walnuts and raisins, emental cheese, carrots, marinated grilled chicken, topped with the delicious mustard vinaigrette salad.
This salad is rich in omega-3 fatty acids, which is excellent for people with high triglycerides levels. It is also rich in vitamin D, which is great for people with vitamin D deficiency. It is super rich in fiber, and so fights chronic constipation problems!
The total calorie of this salad without the bread stick: 350 calories!!
I also had 3 pieces of brown multi cereal bread without the olive sauce! Instead I ordered the dijon mustard 🙂 This add  220 cal to the total calories!
The total lunch: 570 calories!!
In Lebanon, this salad is only available at Chez Paul, Gemayze branch!  You need to try it!! 😉