As I wrote in an older post, We've started to send healthy and light meals to all  regions of Lebanon!
The food is suitable for weight management problems and for every single health case.
http://www.eatlikemira.com/2012/05/16/diet-kitchen-catering/
I wanted to share with you my lunch for today!! I will also talk a bit about the nutritional facts of what I've chosen! 😉
First I started with the Greek salad,  lemon mustard and very little virgin olive oil as a dressing: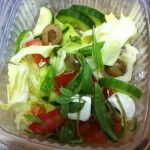 I only consider the calories of the the light feta cheese as I don't consider the vegetables while calculating the calories: This salad has in total 30 calories, and an extra 30 calories for the dressing! 
Total calories: 60 calories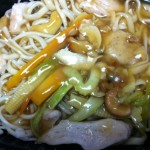 Then comes the main course: Chicken Cajun noodles! with the sweet and sour sauce:
It is a medium plate consisting of lean grilled chicken breast, Cajun, noodles, sweet corn, yellow peppers and the sauce.
 This plate makes in total 400 calories.
It is low in saturated and Trans fat, low in sodium : Suitable for hypertensive people and people who suffer from high blood cholesterol level!
Last but not least: The desert!! Muhalabieh! I love that!!!!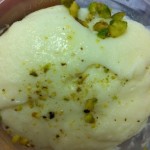 It is a very light pudding, made of fructose, the fruit sugar and  is Aspartame- free! The sugar is slowly absorbed in the bloodstream and so is suitable for diabetic people.
My desert for today is about 70 calories! Low calories for a great taste!! 😀
So guys!! That was a random lunch I had today! I can say I was full for only 530 calories!!!
 It included my salad, my main course and my sweet! wooww perfect!!! 😀