That's another  refreshing cold drink I've been addicted to lately!
 It's the northern lite coffee cooler that you can find in caribou caffe!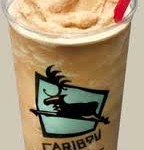 Caribou caffe has a special sheet for all its cold drinks with all its sizes, sheets where all the nutritional informations are mentionned in details 🙂  
Like what???
I am gonna talk now about the sheet of this "Northern Lite coffee cooler"!
For 12 oz or 340 grams:
 Small size
– Calories: 80 cal
– Calories from fat: 15 cal
– Total fat: 1.5 g
– Saturated fat:1.5 g
– Trans fat: 0 g
– Cholesterol: 0 mg
– Sodium: 85 mg
– Total carbohydrtes: 26 g
– Dietary fiber: 5 g
– Sugar: 10 g
– Protein: 2 g
– Calcium: 8%
– Iron: 0 %
So As you noticed it is a very healthy and guilt- free drink that usually must be full of sugar!
BUT …. It contains only 80 calories with good amount of calcium!
In lebanon Carribou caffe has opened in 3 prime locations:
1- Beirut ashrafieh, Sassine, facing caffe najjar 
2- Hamra, Hamra  street
3- Amerciacn University of Beirut, Bliss street
 For coffee and sweet lovers!! You need to try it!!! 😀