It is my favorite place in Beirut during summer!  I went early a bit to have breakfast there as I love their food 🙂
The buffet is huge with all  food varieties. I only had pictures of the sections I was attracted to and from which I made my  breakfast choices.
First as a start, I ordered a mug of black American coffee, with no sugar.
I had with my coffee a small  muesli bowl with yogurt and some raw walnuts. Its a very heart healthy choice, rich in omega-3 fatty acids, and loaded with fiber !
90 calories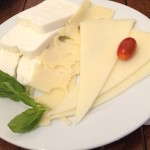 The waiter served us later a plate of different  cheeses, I had only the white ones with one brown olive bread.
White cheese is lower in saturated fat than the yellow one, is richer in calcium and vitamin D and less in calories.
 115 calories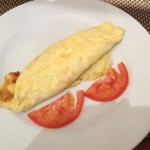 After that, I had my favorite omelet! The plain one! very simple and standard omelet!
I asked them to use only 2 whole eggs and very little oil and so I got it not oily at all!
To add some flavor to it, I mixed it with a bit of Lebanese labne, with no bread at all! 😀
    230 calories
At the end, comes the desert!! I made a smart and light choice by selecting a fresh fruit salad bowl! It has no added sugar and unlike juices it still has all the fiber in it!
75 calories
My total breakfast makes in total 510 calories! Now my lunch will be late and smaller in quantity 🙂
 "Eat breakfast like a king, lunch like a prince, and dinner like a pauper"!
For those who travel a lot and donnow how to make healthy choices in hotels, this breakfast is an example of what you can eat,
And this is another article that helps a lot!
http://www.eatlikemira.com/2010/02/06/diet-advices-when-travelling/