When I first started  this blog I've mentioned to you my typical eating habits on a random day, and I've mentioned this special hot chocolate  from Cadbury, a light and tasty drink!!
http://www.eatlikemira.com/eat-like-me-eat-like-mira/
I'm now officially addicted to it!! Loollll…. Like seriously can't start 't and end my working days without it!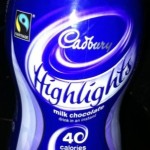 It relieves my sugar cravings, and increases my serotonine levels which increases my good mood naturally! 😀 
This instant low calorie  hot chocolate drink is made of: fat-reduced cocoa dried whey and skimmed milk, glucose syrup, and artificial sweeteners.
Sweeteners won't be dangerous unless you take very high doses. But surley they are not recommended to pregnant or breastfeeding women unless those sweeteners don't contain aspartame.
http://www.eatlikemira.com/2012/02/01/free-cal-sugar-sweetener/
This drink can be suitable for vegetarians.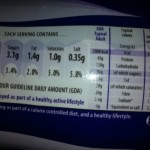 The serving size is 3 teaspoons, and makes only 40 calories! that's nothing!! 🙂
It is available in purple sachets of 40 calories which can be easier for you. It is also available in purple  bottles…