Well, that might seem a bit strange for you! But here is the news!!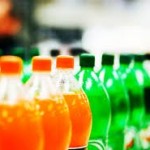 A lot of us try to shift to diet soft drinks as that will make us lose weight!
We tend to drink plenty of it everyday, thinking that it won't make us gain weight or affect our metabolism!

But what's behind Aspartame??
It tends to make your sweet addiction stronger and will make you gain weight! You finally tend to ask for more and more sweets!
Diet sodas contain  a lot of aspartame and just because they are zero in calories, doesn't mean that they are healthy and safe!
Normal sodas are not healthy either, but when we concentrate the sugar, it becomes non- natural and causes more problems!
I won't say more! You need to check this!!
START BEING AWARE OF WHAT YOU EAT AND DRINK! And… TAKE CARE OF YOUR HEALTH!