Talking about delicious frozen yogurt??
The first option that comes to my mind is surely Pinkberry!! I used to make fun of the queue I used to see when it first opened, but no wonder Pinkberry has more than 4 branches all over Kuwait, the most recent one in the Kuwait national airport! 
It has also opened  in Beirut ABC mall! 🙂
For those who don't know what is it, Pinkberry is a zero fat frozen yogurt shop with different flavors. You choose the flavor that you want with your favorite toppings.
Toppings offer a perfect taste and texture combination!
My favorite mix! 3 flavors!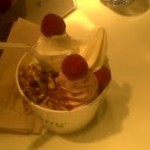 A mix of the original, pomegranate and passion fruit flavors, topped with some berries and raw walnuts!!
All yogurt are "non-fat, sugar-free and zero cholesterol!
It is a fulfilling healthy snack, as it is rich in calcium (found in yogurt), antioxidants (found in berries), and omega-3 (found in raw walnuts).
It tastes less like ice cream and more like yogurt:)
I took the medium size. It had almost 250 calories.

 Perfect as an afternoon snack!
Check their website for more products info! http://www.pinkberry.com/