Buffalo Mozzarella Rocca salad! This is the salad I had a couple of days for dinner ago in Cappucino at Zeitouna Bay, Beirut!
I wasn't really hungy, so I thought of taking something good and light at the same time. Plus I am a fan of cheese and tomatoes! So it was a perfect combination!! 😀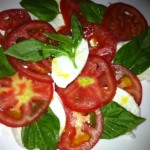 Unlike Buffalo wings, which simply derive their name from the town in which they were invented , Buffalo mozzarella refers to the animal whose milk is used to make the cheese.
 Buffalo mozzarella originated in Italy is  high in total fat but low in cholesterol!
Well the cheese wasn't really buffalo mozzarella. it tasted like a kind of white Lebanese cheese, but that was fine! Didn't complain!
 The plate had in average 70 grams of cheese, with olive oil for sure! The rest was veggies (rocca and tomatoes). I added black pepper to it!
It's alwasy better to choose white cheeses, they are less in saturated fat, and richer in calcium!
The whole plate made in total 220 calories! 😀