In this post I am gonna tell you what I had for dinner after a 90 minutes of intensive Tae-Bo class!
Actually the class burns really a lot of calories and fat! For those who want to burn fat or even build muscles, dinner is really important! Don't ever think that for you to lose weight, it's better to skip dinner!
There are food combinations that work together for you to burn more calories in general and to burn fat specifically!
Usually after your workouts, you end up having a high metabolism for the next 7 hours, so It is fine if you cheat after exercise!
Let's come back now to my dinner!
First and as I always say, I start by having 2 glasses of room temperature water before each meal, that keep me hydrated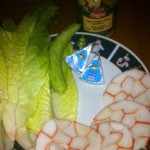 Then I had 4 slices of crabs, some lettuce, courgette cucumbers, known as" me2tei", 2 slices of light Picons, and some Dijon mustard!
It's like having a salad, but I like to separate the whole thing to feel that I am eating a bigger portion: D
Crab is from the seafood family, very low in calories (55 calories in only 3 slices), low in sodium unlike fish and salmon, so it doesn't retain water in the body!
Crab is extremely rich in vitamin B-12, selenium and copper. It is a good source of magnesium, zinc, phosphorus and vitamin E, according to US Department of Agriculture nutritional Database.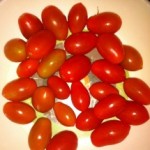 On the side, I had some cherry tomatoes, which I love!! Tomatoes are full of Lycopene, a very important antioxidant to our body!
The whole plate makes almost 170 calories.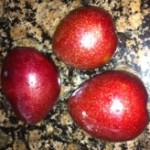 At the end, I had 3 medium plums, fresh from our garden!
That makes an extra of 65 calories
Total dinner: 235 calories!:)
Dinner time: 9 pm