The weather is getting really hot!! What's better than refreshing yourself during this hot wind of summer!
For me summer means ice creams, sorbets and frozen drinks! I love that!!
 I was looking for some diet ice creams and got these 2 Iceberg Brands!
The first one was a Chocolate vanilla ice cream, called "Les Delices".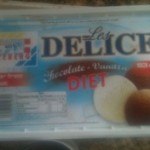 It is sugar-free, and low in fat, with only 63 calories per 2 scoops! Perfect for the afternoon snack!!
It contains milk (the fat-free version), and can work really good for people who love the mix taste of vanilla chocolate!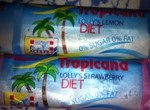 The second Diet ice cream is The Tropicana Lolly's iced sticks!
It has 0% sugar and 0% fat, can be found in strawberry and lemon flavors! Very refreshing ice creams!!
This kind of ice cream is made of: water, sorbitol, citric acid, aspartame and the flavor (strawberry or lemon).
Talking about how healthy is that, no doubt that those sticks have colorants and artificial sweeteners, but personally I find it suitable for people who like the sweet and cold treats! But do not exceed 4 sticks per week!
One stick has only 15 calories!!