I had an urgent trip a a few days. Everything happened so fast that I  barely ate during the day before my flight! I got into the plane and felt really hungry. I couldn't' wait honestly to get my dinner, and started to look into the menu to see what can I choose. They told me that there is a light menu but have to request it online with my ticket, something I didn't know before.
Here was the menu: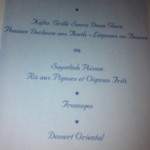 – Saumon fume as a salad
– Grilled kafta with sautes vegetables or fish sayadieh
– Butter and Cheese
– Oriental dessert
– Fruits
MY CHOICE!!!
I thought of taking the fish sayadieh and told myself to remove some of the rice as it will be oily for sure! While if I take the kafta, I will definitely end up eating the vegetables which are cooked in margarine, that's beside the fat present in the meat!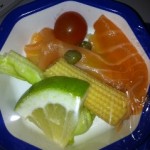 I started with the saumon fume salad. It had baby corn and cherry tomatoes: 55 calories
Then I moved to the Gooda cheese: A very tiny piece of yellow cheese, and ordered with it one glass of white wine 🙂 130 calories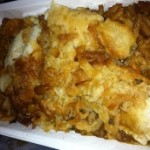 Then comes the main dish, Fish sayadieh: I tried to keep it till the end, to remove some of the rice. So in fact, I took all the fish pieces but not all the rice: 230 calories
The whole dinner makes 415 calories! I did not take any fruits nor sweets.
Next time I will definitely try the light menu and write about it!