Salmon is one of the healthiest kind of seafood! It is extremely rich in Omega-3 fatty-acids, which decreases your triglycerides levels, your blood cholesterol levels, prevents strokes and heart attacks!
http://www.eatlikemira.com/2012/02/27/is-salmon-really-fattening/
I'm gonna write  for you one simple Salmon Recipe! It's so easy and anyone can prepare it at home!
BBQ Salmon with Ginger: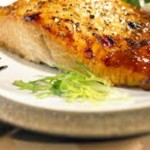 Ingredients:
Salmon fillet: 4 pieces of 100 grams each
Vegetables: Zucchini, white and red beans, sliced carrots, cherry tomatoes (you can add the vegetables you like)
grounded ginger (3 tea cups)
Olive or canola oil (3 tea cups)
Lemon juice (3 tea cups)
Preparation:
Put lemon juice and olive oil on each fillet, then put it on a parchment paper
 Add all the vegetables including the ginger at the top of the fillet, then cover it completely
Prepare the BBQ, and once hot, you can place the covered fillet on it
Cook for 10 to 15 minutes
Nutritional value:
For each fillet:
Calories: 250 calories
Fat: 25 grams and 2 grams Omega-3!!
Proteins: 21 grams
TRY IT!!! 🙂