I have noticed through my work experience that a lot of you don't like to include mushrooms in their nutritional eating habits!
So here in this post I will explain the major benefits of mushrooms, maybe it makes you change your mind! 😉
First, Mushrooms are very low in calories, fat-free, cholesterol-free and very low in sodium, BUT  they provide important nutrients like:
– Mushrooms are a good source of B vitamins, including riboflavin, niacin, and pantothenic acid, which  provide us energy by breaking down proteins, fats and carbohydrates! The B vitamins  play an important role in the nervous system!
– Selenium prevents any damage in our body cells, which leads to heart diseases, some cancers and other diseases of aging. Selenium has been also found to be important for the immune system and fertility in men!
-Potassium is extremely important to control our blood pressure. It also plays a role in making our heart function properly.
– Copper  makes red blood cells, which carry oxygen throughout the body. Copper keeps bones and nerves healthy.
And the most important benefit!!
Mushrooms, unlike all the other vegetables are loaded in Vitamin D which is found for the first time in non- animal sources! Vitamin D is needed for our bones health and Vitamin D deficiency is extremely risky!
The healthiest type of mushroom to eat is the white mushroom category that includes the familiar button mushroom and the Portobello. The white mushroom increases our metabolism and maintains normal blood sugar levels. A strong metabolism means more burned fat! 😀 
Be careful!! Certain mushroom plants are poisonous, so if you are outdoor, don't pick and eat mushrooms if you can't identify it.
Because mushrooms are very low in sodium, they fight against cellulite formation!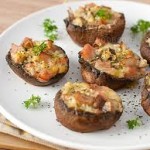 Saute, cooked, fresh or baked are major easy ways to include more mushrooms and vegetables in your diet.
1 cup of mushroom has only 15 calories!!
SO?? WILL YOU START EATING MUSHROOMS NOW?? 🙂