I'm a fan of salads!! I tried the broccoli feta cheese salad with a light creamy dressing and loved it!!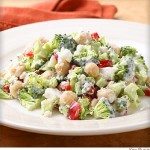 Broccoli is a nutritional superstar! It contains a high amount of potassium, which helps maintain a healthy nervous system and promotes regular muscle growth.  It is rich in vitamin C, an antioxidant necessary to increase our immunity.It also prevents any growth of breast, cervical and prostate cancer!
http://www.eatlikemira.com/2010/04/20/broccoli-a-miracle-food/
Here is the recipie!
Chopped raw broccoli  tossed with a creamy dressing, chickpeas and red  pepper!
Total Preparartion Time: 20 minutes
Ingredients:
1/3 cup of feta cheese
1/4 cupnonfat plain yogurt
1 tablespoon of lemon juice
1 clove of minced garlic
1/4 teaspoon of freshly ground pepper
3 cups of finely chopped broccoli crowns
4 cups of  well rinsed chickpeas
1/2 cup of chopped red pepper
Preparation:
Whisk feta cheese, yogurt, lemon juice, garlic and pepper in a medium bowl until they combine together
Add broccoli, chickpeas and bell pepper
Toss and serve at room temperature.
Bon Appetit!