Tuna is not usually my favorite breakfast choice! But today I was extremely late to get to the office and was really hungry!
Napket, one of the most delicious restaurants in Kuwait,  is directly next to me. I looked at their menu and found that tuna can be the healthiest option to have! 🙂
Actually the sandwich is made of brown toast and is very consistent, so I will have a late lunch!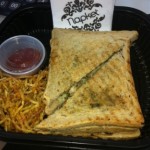 It is made of:
Tuna, tomatoes, mozzarella cheese (but told them to remove it), pesto and black olives.
Tuna is an available source of Omega -3. These unsaturated fatty acids (good fat) help maintain brain, eye and heart health.
Usually they serve chips with all their sandwiches, but I didn't eat that!
Don't forget!!  You can always change the ingredients of your sandwiches when you eat outside, and it's only you who can make the healthiest options!
This sandwich has 350 calories! 😀