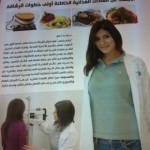 I had an interview a few weeks back with Mondanite Magazine in Kuwait city!
The main subject Mondanite team focused on during this issue was about everything related to the brides to be, ranging from their health, their body shape, their teeth,  skin, fashion and so on…
They called me and they wanted to know more what can a future bride eat during this period to look shining and stunning! 😀
First of all, any future bride should watch her nutritional intake almost 6 months before her wedding, she should take into consideration all the essential nutrients needed for  healthy nails and skin as well as for shining hair! She has to be the queen on her wedding day!!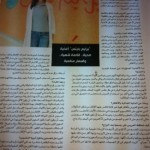 Talking about healthy hair, any girl need to focus on keratine intake from food which is usually present in all protein especially seafood like tuna and salmon. Keratine is very important for hair growth, it gives it a healthy shining look! Girls who don't eat seafood need to take the fish oil supplement!
http://www.eatlikemira.com/2012/06/27/super-food-for-a-strong-hair/
Health skin is directly related to what we consume. Kuwait weather doesn't help to have a clear skin! That's why future brides need to eat a lot of vegetables and fresh fruits, and I advice them to stay away from juices which are rich in sugar and calories with no fiber at all! Vitamin C intake is crucial to give them energy all the time, such as mango, orange, papaya, carrot and broccoli.
Another important vitamin for a healthy skin is Vitamin E present in healthy oils like avocado, almonds, walnuts, sesame seeds and virgin olive oil.
Nails' Health is linked to our calcium and Vitamin D consumption. Girls!! You need to increase your consumption of dairy products that are rich in calcium or even fortified with calcium and Vitamin D. Fat-free dairy products are even richer in Calcium than full-fat ones! Vitamin D plays an excelent role for our bones' health as well! If you're not a fan of milk, you can find calcium and Vitamin D in hidden sources like pudding and custard. Increase the consuption of chicken and yogurt as well! 🙂
http://www.eatlikemira.com/2012/07/02/heal-your-nails-with-special-food/
After her wedding, any wife can gain 3 to 4 kilos especially during her honeymoon! That's normal! She wants to taste good food, she wants to cook and forgets a bit about healthy eating! This phase will vary, usually it takes 1 to 2 months then she's back to her normal life! She has to cook healthy and to eat 3 healthy and low fat meals, with 1 day off per week, for her not get bored at the end! Being active is also very important to maintain a healthy weight! 🙂
I don't recommend any pills that will make her lose weight!! These pills might give her only short-term results, and this is not what she needs! They have many side effects on the long run!
http://www.eatlikemira.com/2010/01/30/what%e2%80%99s-behind-diet-pills/
Congratulations for the bride to be! 😀