This the lunch I had today!!
Fish teriyaki with steamed vegetables!!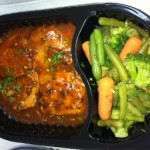 First let's talk about the TERIYAKI SAUCE for those who are not familiar with that 🙂
Teriyaki sauce is a flavorful sauce made from fermented soybeans that is used in  many Asian cuisines. It is low in calorie, so it's a smart way to add lots of flavor to your food  and can be part of a healthy diet.
What are its major ingredients??
Teriyaki sauce uses soy sauce as a base, with many other ingredients added,  including ginger and other spices and vinegar. It is sweet in taste so sugar, corn syrup or honey can be added to it.
1 Tablespoon of teriyaki sauce contains only 16 calories and is fat-free!
But!! This 1 Tablespoon of teriyaki sauce contains 690 mg of sodium, which is a high amount that can easily add up your daily  salt intake. Too much sodium can be a factor of developing  high blood pressure, according to the University of Colorado Extension.
Fish is highly rich in the essential healthy oil, omega-3 which is needed to lower high triglycerides level and prevent all kinds of diseases!
So this lunch is one of the typical healthy light and delicious ones I ever had!! 🙂