I've/written before about feta cheese sandwich from Americana! Well here it is the same brand but different kind of sandwich!
http://www.eatlikemira.com/2012/11/11/americana-breakfast/
Smoked Turkey Sandwich with brown Bread!!
This is the breakfast I had today!!
It is a freshly prepared sandwich with very low calorie and fat content!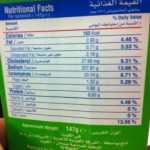 Ingredients: Smoked Turkey, Lettuce, Tomato, brown Bread.
Nutritional Facts: Calories: 153, Fat: 2.9 (All Unsaturated), Fiber: 1.32 g
Prepared with carefully prepared ingredients, Americana "freshly prepared" range is the natural and healthy choice to fuel your vitality throughout the day.