Honestly I've never heard about khoushaf  before!  Our chef told me about it and found it really healthy in Ramadan!

What is it??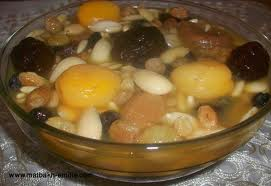 It's basically dried fruits like apricots, prunes, raisins,  with pine nuts, walnuts, and almonds put all together in rose water… S0o refreshing!
Khoushaf is a great option for a souhour during Ramadan. It contains all the important vitamins that our body might lack of during the whole day! It won't make you thirsty and gives you the needed energy for the next day!
Dried fruits are loaded with vitamins and minerals. They're also rich in calcium and phosphorus, which are very important for healthy teeth and bones. Vitamins such as folic acid and Vitamin B12 help in the formation of RBC. Plus they are loaded with iron, essential for the formation of hemoglobin.
Dried fruits are rich in fiber which helps in digestion and prevents constipation that is common during ramadan.
One serving contains:
1 dry fig, 2 dried apricots, 2 dried prunes, 15 grams of raisins, 10 grams of raw walnuts, 5 pine nuts, 2 teaspoons of rose water and distilled water.
The whole serving contains 300 calories which can be fair for a souhour meal if you are craving for a sweet  taste!