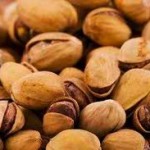 Pistachios! I decided to talk about this nut category as many of you are afraid to eat that thinking that it can be harmful for their health!!
Although Pistachios are calorie-dense nuts that can easily add up to hundreds of  calories if you're not careful, they are among the most nutritious food to choose!
We don't always have to think only about calories when it comes to food, we need to think about our inner body and health!
Lifestyle factors, including diet and exercise habits, can significantly  influence our health!
According to an international team of nutritional scientists, pistachio nuts, eaten as a part of a healthy diet, can increase the levels of antioxidants in the blood, which reduce LDL ("bad") cholesterol and increase the good HDL cholesterol after only a short period of regular consumption.
The high levels of antioxidants mainly the Vitamins A and E,  fight against  inflammation, protect blood vessels and reduce risk of heart disease. Even a moderate intake of pistachios has been shown to increase levels of  Lutein, an antioxidant well known for protecting all heart diseases and sudden stroke.
Unique benefits!
Pistachios contain 2 carotenoids not found in most nuts!! These carotenoids, called lutein and zeaxanthin, are linked with a decrease in the risk for developing  visual impairments and early blindness, and are excellent for strong and clear vision!
ALSO…
Vitamin E, one of the major vitamins found in pistachios, does an excellent job in protecting the skin from UV damage, providing a daily defense against premature aging and skin cancer!
Pistachios are nutritious but loaded with calories! So limit yourself only to 1 handful a day which has 140 calories!
This handful is enough and provides the recommended levels of phenolic anti-oxidants, minerals, vitamins, and protein!

Choose when to eat it throughout the day!
You can take it as a snack in between your meals to keep your body full, satisfied and nourished, or you can toss it on your salads so it gives you a better taste! Adding pistachios to your salads will not only provide healthy fats for your  stomach, it will also add potassium, vitamin B-6, copper and phosphorous to your meals. It can be the best option for vegetarians as an excellent protein source!
Pistachios contain healthy monounsaturated fatty acids (MUFAs),and so are classified as one of the food that  help you achieve a flat stomach