I mentioned in another post  the benefits of strawberries, and I talked about the abundant antioxidants and vitamin C this delicious fruit contains!
http://www.eatlikemira.com/2010/06/12/strawberries-in-season/
Some people find it weird to add some fruits to their protein or salty salads, while others enjoy that great taste!
And I am one of them 😀   I like to mix different ingredients together and I don't mind trying new foods or cuisines…
This is a very simple salad, you can do it at home, hyper healthy and tasty!
Strawberry and Grilled Chicken Salad: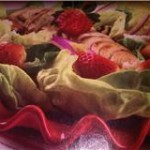 Serves 4 people
Ingredients:
– 2 chicken breasts
– Salt and black pepper
-4 fresh strawberries divided
– 1 sprig of fresh basil
– 1/2 pint plain low fat yogurt
– 2 tea cups of chickpeas
– 1/2 cup of ricotta cheese
– 50 g of walnuts
1 small red onion, thinly slices
– 16 cups of  iceberg lettuce
Preparation:
– Start by seasoning chicken breasts with the  salt and pepper then grill… Reserve it until ready to mix with the salad.
– For the dressing, combine 2 strawberries. the basil and a small amount of water in a small saucepan on a low heat.
– Allow to cool and add the yogurt and black pepper then mix the whole thing together.
– Put in a mixing boil the lettuce leaves, chickpeas, ricotta cheese, red onions walnuts and the remaining strawberries.
-Add a small amount of the dressing and toss well, then slice the chicken breasts and add it to the top of the salad.
– Add the rest of the dressing at the end.
Nutrition analysis per serving:
Calories: 200 cal
Total fat:7 g
Carbohydrates: 15 g
Fiber: 5 g
Protein: 10 g