This is a dinner I had with my friends at Caffe Maillon, Beirut! I've never been to this place before, although everyone is advising me to try it!
It is a huge restaurant, nice decoration and tasty food! Plus I loved the ambiance as one lady and one guy were singing a duet!
I will mention what did we order!
Personally I had first a light Almaza mexican beer, with some carrot slices! I got used to this beer! Delicious!!
 I wasn't that hungry and to stay light, I only had a chef salad, very consistent one! It contains lettuce, eggs, grilled chicken breast slices, baby corn, turkey and cheese! And I ordered  a light mayo dressing!
You may find it weird, but I love to add some nuts and almonds to my salads! So that's what I did!! 😀
 Total calories (salad with added nuts + Light mexican Beer): 420 calories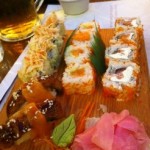 My friend took a sushi platter. It was a mix of rolls and in general, we can say a healthy choice! 😉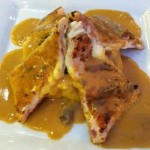 My 2 other friends had the same dish! It is called "Chicken Monseigneur". It is made of grilled chicken breast, stuffed with ham and cheese, mashed potato and topped with mushroom sauce!
I had a very tiny piece to taste it, but found it very heavy!! 😀