I just love Oishii, the combination of Asian & Japanese restaurant!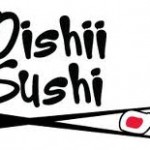 And I have mentioned it in an older post, when I first tried it in Beirut!
It was really tastyyy, especially the desert at the end! The chocolate maki! 😀
http://www.eatlikemira.com/2010/05/19/a-random-dinner-in-beirut/
One of my blogroll "Poach" just posted a video of  oishii chef  while making the Maki 🙂
mmm I can say that making it and rolling the sea weed sounds easy when you first see the video, but I wonder if I can do it that easily! 😀
Well I must give it a try!!
CHECK IT OUT!
Oishii now have a special diet menu… The website is still under construction but I  will keep you posted!
Contact
Tel:
22644440 – 55990505
Location:
Shaab Seaside, Ibn Al-Khatib St
Website:
Oishii-KW.com
Facebook