The weather is getting better!
So we sometimes feel like having some cold and refreshing drinks!
I love Lemonade, and  always go for the frozen lemonade with mint, as a low calorie and tasty summer drink!
http://www.eatlikemira.com/2010/06/03/frozen-lemonade-with-mint/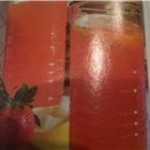 The starwberry or raspberry refreshing lemonade  is not as sweet as most commercial brands. If you prefer a sweeter version, increase the sugar a bit!
Enjoy strawberry flavor in early summer and raspberries later in the season!
Make 3 quarts:
Ingredients:
– 1 1/2 cups of fresh or frozen strawberries or raspberries
– 10 sweeteners sachets or 1 1/4 cups of  brown sugar
– 2 1/2 quarts cold water
– 2 cups fresh lemon juice ( almost 10 large lemons)
– 1 large lemon sliced
1- Puree the strawberries or raspberries in a blender (add a few tablespoons of water if necessary to get it going) then strain through a sieve.
Discard seeds and transfer pulp to a large container.
2- Make a syrup combining the sugar and 1 cup of the water in a small saucepan. Cook over medium heat, stirring, until the sugar is completely dissolved, but don't boil. Let it cool, then transfer to the container with the berries along with the lemon juice and sliced lemon. Stir in the remaining water.
3- To serve, stir and then put into glasses filled halfway with ice.
Don't forget to include a lemon slice at the end ! It makes it more appealing 😉
Calories: 100
Total fat: 0 g
Cholesterol: 0 mg
Sodium: 1  mg
Fiber: 2 g
Protein: 0 g