I have mentioned in an older post that I 've tried the Soy Kaak from Equia, and about all the benefits of Soy!
http://www.eatlikemira.com/2012/02/15/equia-soya-kaak/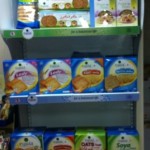 Now I have introduced into my clinic almost all Equia brand products which I personally find very efficient for everyone!
The products vary from toasts to crackers to cereals, to kaak, to rice cakes to pasta and couscous and they even have healthy kids muffins!
The thing I like about Equia is that they considered the case of every person, that means they have special toast for men called "Equia man Like toast" which is rich in seasame seeds and ginseng, and one for women called "Lady Equia toast" which is condensed with calcium and vitamin D.
Another case they considered is the "Celiac disease", people that can't tolerate gluten in their food, and that's why gluten-free items were introduced as pasta, bread or cereals!
People who suffer from constipation! Equia Fiber toasts are the best!!
Not to forget the food items special for people who suffer from high blood cholesterol levels and triglycerides! Equia toast Omega , Equia brown and oat rice and oat equia toast  should be taken.
The products are varied as I said, and super healthy and efficient to every case! They taste good and that's what I like!
Equia Slogan: "For a balanced life"!  Indeed 😀