As you noticed, I haven't been writing for almost 10 days, due to my Euro trip. Actually I went to Holland then Paris and told you will be back with info about the kind of food there!
First of all, it is very rare to find someone overweight obese in Holland! This is because everyone is active, walk a lot and drive bicycles! Bicycles there are like cars in the our country! I was surprised to see that huge number of bicycles parked next to each other!
Food in Holland has to do mainly with yellow cheese, bacon, steaks and lots of potatoes!
For breakfast, they serve different kinds of yellow cheeses, not a lot of vegetables, a lot of bacon and eggs.
They even serve the chocolate vermicelli which a friend told me that they use it as a topping for cheese.
Personally I was choosing some cereals with yogurt and dry fruits, as I don't like to eat eggs, bacon and sausages in the morning, and I am not a fan of yellow cheeses!
After that, I was taking a fruit salad or a piece of fruit, mainly apples!
Holland cuisine also has to do a lot with seafood! Very fresh seafood!!
I had my cousin's wedding there so I took pictures of the food I had! 😀
But I was surprised  that they cut the cake oand offered champagne 15 minutes before the dinner. So I didn't have any of them as I wanted to enjoy my dinner:)
As a starter, I had white beans salad with some beef rolls, a small and light dish! Perfect meal for anemic people, super rich in Iron!!
Then I had a tuna salad, very well presented and tasty!!!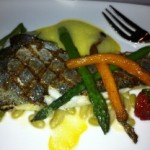 For the main dish, I've chosen the fish meal, while others had meat or vegetarian meals.
So  I had the 3 meals, small and very light ones, with a delay of 30 minutes between one dish and another.
I had my food with that 3 wine glasses!
Paris is no doubt called the country of bread and cheeses!! My favorite!!
Honestly I was eating very well during the day, mainly for breakfast and walk for more than 6 hours a day to have my early dinner after!
My breakfast was always a sandwich from "Chez Paul"! I love the bread there!!
So I was taking the ham and cheese sandwich with my nescafe!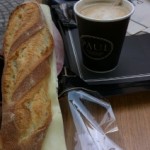 for Dinner I was choosing something light and carbohydrate-free! That's a smart way to compensate for a heavy breakfast, plus it doesn't  make me bloated the next day!
http://www.eatlikemira.com/2012/08/27/evening-tips-for-a-morning-flat-belly/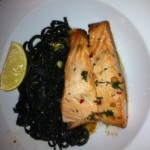 My dinner was in general different kinds of  fullfilling salads (with chicken, crab or salmon) or sometimes grilled salmon with vegetables or even carpaccio!!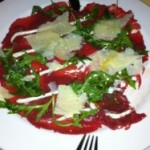 Plus I used to drink a lot of water there and not a lot of alcohol!
The most important thing is to eat and enjoy all kinds of food you like  in moderation and to be active!