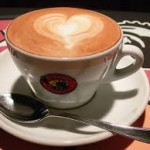 Coffee is a part of our everyday life! Some people prefer to have it black, others with milk or coffee mate.
I was used to have my morning french coffee on a daily basis, then stopped it for a while coz I became addicted to it! :s
Last nigth I ordred it in a coffee shop and thought of talking a bit about it here.
Unlike Turkish coffee or espresso, french coffee comes in different flavors , and has calories!
The ingredients vary from one place to another but usually the standart ingredients are:
Granulated Sugar
Heavy Cream
Strong Coffee
French Vanilla
French coffee is lower in caffeine content, because usually darker roasts have higher percentage levels of caffeine.
Al- rifai has  delicious blend of 100% top quality grounded coffee beans with 6 different flavors.
Cinnamon, Hazelnut, French Café, Strawberry, Coconut and Chocomint!
The hazelnut flavor is soo addictive! Try it!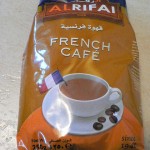 1 coffee cup contain in average:
 1.5 g of total fat and  1.1 g of saturated fat
 55 calories! And you can add sweetener to it if you like it more sweet
Note that you need you be careful about how you choose your coffee!
http://www.eatlikemira.com/2011/10/07/how-to-choose-your-coffee/