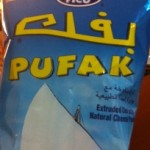 I wanna talk about this kind of chips coz I Love it!! We call it chips although it's not fried (a few of you have noticed that!) 🙂
Pufak chips is made of corn with some natural cheese powder so imagine the taste!!
As I said before, Pufak is not fried, it is baked with very low calories, and cholesterol free. Plus it doesn't contain any artificial flavours.
Ingredients:
Corn grits, vegetable oil, natural cheese powder, salt, beta carotene and paprika oleoresin which is a paprika extract, extracted from capsicum and causes the flavoring of the product.
The whole bag is very low in calories comparing its quantity. It has only 100 calories per bag, 1.1 grams of fiber and 0.6 gram of sodium! (too much sodium causes water retention)
So people who are watching their weight, their cholesterol blood level and their sodium intake, Pufak can be an excellent snack!
Personally, I sometimes take it as a dinner, dipped with some labne or mtabbal 😀